Discover the latest in sandwich trends as we explore gourmet ingredients, innovative techniques, and global inspirations. Elevate your culinary game and redefine the classic sandwich with insights tailored for modern chefs.
We've looked at 'deep fill' sandwiches before, but the sandwich scene is huge. Of course, they're a classic at-home / packed lunch staple, but more than ever, premium sandwich shops are popping up all over the world. From childhood favourites and even tinned fillings to more premium affairs, the sandwich scene is bigger than ever, showing that you don't need to break the bank to enjoy a belter of a bun.
One of the key drivers behind the reinvigoration of the category is the cost of living; many of the sandwiches represent the premiumisation of the category as consumers look to grab a superior sandwich rather than heading out for a meal. Interest in global flavours is also having an effect, with consumers looking for more than the classic combinations offered at many cafes and retail chains.
Sandwiches With A Twist
The 'Chopped Sandwich', the 'Naanwich' and the 'Pinwheel Sandwich' – have you ever heard of these before? Classics are getting a twist, from naan bread instead of your average white bloomer to the TikTok craze of wrapping up your favourite ingredients into pinwheels.
Chop It Up
Ensuring all of the ingredients are in every bite.
Inspiration: A chopped breakfast sandwich with sausage, bacon, fried egg, beans and mushroom @tastyUK
Naanwich
Is it a wrap? Is it a kebab? No, it's a Naanwich. Doing the rounds again, the old favourite is back. It pimps up simple fillings and makes for a delicious snack or dinner.
Inspiration: Chicken Tikka Naanwich @bestofbristol
Pinwheel Sandwich
A fun take on a wrap that's simple to make. Great for parties, picnics and little ones. Just lay out a wrap, add your favourite fillings, roll it up and slice!
Inspiration: Turkey and cheese pinwheels @everythingmili
A Little Extra
Sandwiches are being premiumised with additional ingredients or 'a little extra', like sauces, cheese and luxury fillings.
The Saucy One
It's not just mustard and mayo, these sandwiches have the addition of gravy, carbonara, chimichurri and even a cannellini bean sauce with pork and fennel meatballs.
Inspiration: Peppered mortadella, bechamel, cheddar, mozzarella, butter pickles & jalapeno mustard @terrortwilight
Dip and bite
Dipping your sandwich into a pot of rich gravy has become quite a trend. Initially, it started as a 'burger thing', where double-stacked burgers were served with a side of gravy. Now, it's everything from meaty sandos to prawn and chicken gyoza with a shoyo vinegar dressing.
Inspiration: French Dip Sandwich with slow-cooked Korean style beef, cheese, caramelised onions and a Korean dipping sauce @dans_foodforthought
Luxury Ingredients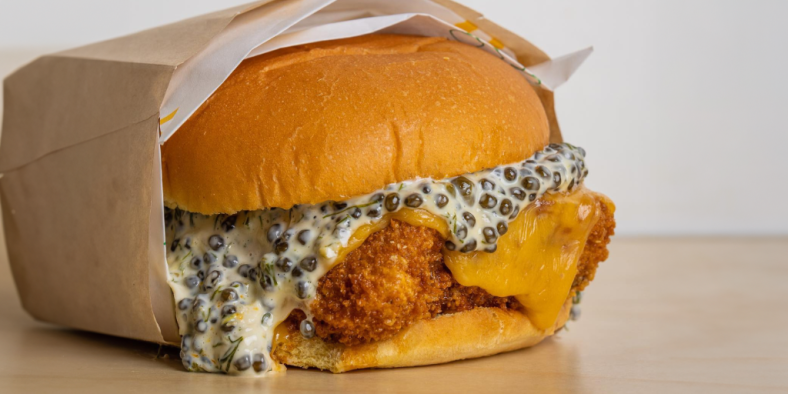 Luxury ingredients make that sandwich cross-section look even more inviting. And statistics show that customers are willing to pay for a premium treat.

Inspiration: Fried dish sando with cheese and caviar tartar sauce @daybirdla
Surf & Turf
Still a popular choice is the Surf & Turf sandwich. It's a classic, with juicy prawns or lobster combining so well with succulent steak and a creamy sauce.
Inspiration: Ribeye steak and king prawn sandwich with crispy onions, rocket and spicy mayo @dans_foodforthought
Cheap & Nostalgic
Chip butties and crisp sandwiches are back on the agenda. And everyone's making them from cheap eateries to expensive ones. Some have even used tinned ingredients, too, for a cheaper, budget alternative sandwich.
The Crisp Sandwich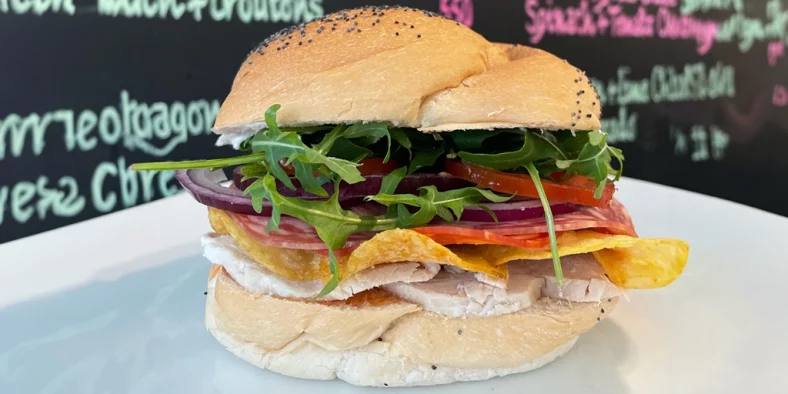 Walkers opened a crisp sandwich shop in the UK, in June 2023, putting their famous crisps into classic sandwiches. Other sandwich shops also jumped on the trend, coming up with their own tasty combos.
Inspiration: Walkers Sandwich with Quavers BBQ Flavour and chicken, bacon and BBQ sauce @ellesbaguettes. Kickin' Chicken with chicken breast, chorizo, spicy salami, sweet chilli sauce and Walkers Prawn Cocktail Crisps, Dene's Deli. Cheddar, tomato, rocket, mayo, chilli jam and salty crisps, Corner Store.
Chip Butty
A salty, crispy chip-stuffed sandwich really does hit the spot. The classic is slices of cheap buttery bread, with chips, and maybe some vinegar, but these nostalgic variations have been pimped up a little bit.
Inspiration: Crispy Fish & Chip sandwich with pickled onions, spicy dill may and lettuce, @dansfoodforthought
Brit Hits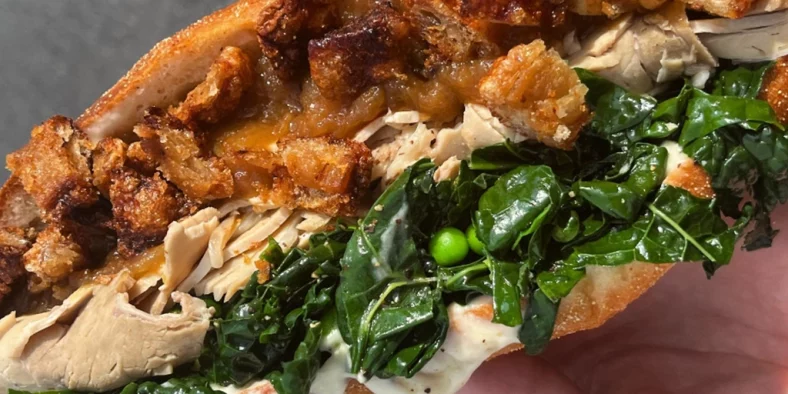 Sticking with the nostalgic flare, Brit classics across breakfast, lunch and dinner have moved across to the sandwich world. Think eggy bread with a ham and cheese filling, pub favourites like ham egg and chips and the ploughman's lunch and even the classic Sunday roast.
Inspiration: Ploughman's sandwich with mature cheddar, Branston Pickle, salt and vinegar McCoys with kewpie mayo on Tokyo milk loaf, The Secret Sandwich Shop. Roast dinner: thin sliced roast pork in gravy, celeriac purée, braised cavolo nero, peas, apple sauce and crackling, Dom's Subs.
Tinned Treats
With long shelf lives and relatively low prices, tinned meats and fish make great choices for sandwiches. They also come with that classic nostalgia hit, which as we know, sells. Think corned beef, spam, tuna, and sardines.
Inspiration: Hong Kong corned beef. and egg sandwich, @pistachiopicks. Tuna melt with dill, capers and onion, Kosta's Takeaway.
Eggcellent
Eggs remain wildly popular in the sandwich world, offering a high protein filling at a relatively low cost. Fried or boiled they can really be brought to life with a few complimentary ingredients and seasonings.
Inspiration: Burford Brown eggs, miso mayo, truffle crisps, salad cresses, Sons and Daughters. Avocado egg sandwich with gherkins, red onion and a dill weed mayo dressing, @sailor_bailey.
Vibrant Veggies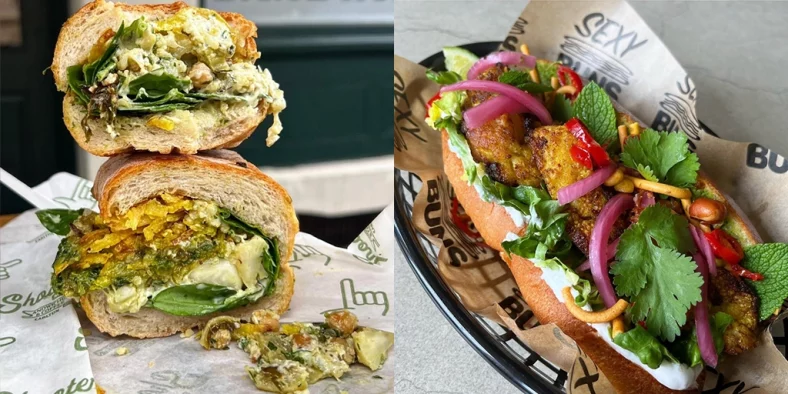 Plant-based sandwiches are a must at all sandwich shops these days. And it's amazing the way these talented chefs are able to turn the common humble vegetable into something truly delicious. Middle Eastern and Indian spices are common choices, especially with cauliflower, beets, mushrooms, chickpeas, pumpkin and aubergine.
Cauliflower Power
Roasted cauliflower has become a very important plant-based option. Often served with pickled onions and Middle Eastern spiced hummus and dips
Inspiration: The Tikka Cauli Bun; roasted cauliflower, madras yoghurt, green chutney, pickled red onions and coriander, Sexy Buns. Roast, spiced cauliflower, chickpea purée, pickled chilli and green leaves, Shooter McGavin's.
Mushrooms
Mushrooms are a meaty plant-based option that go well with a wide variety of flavours. From Asian inspired rolls with deep fried king oyster mushroom and miso mayo, to flavours like truffle and parmesan.
Inspiration: Miso mayo, deep fried msg king oyster mushrooms, pickled carrots & daikons, mint, coriander, fresh chillies, limey cucumbers, The Experimental Sandwich Shop. Artichoke spread, parmesan, rocket, sautéed mushrooms and red onion, Alidoro.
Green Goddess
These green sandwiches pack in veggies like broccoli, kale and even brussel sprouts, covering them in a good helping of pesto and spiced mayo.
Inspiration: The Al Green: avocado, kale puree, granny smith apple, pepita pesto and lettuce, Smalls Deli. Broccoli, chilli mayonnaise, endive and parmesan, Brickfields Bakery.
Roasted Veggies
Pumpkin, beetroot aubergine are all great in sandwiches. Often accompanied by everything from tahini yoghurt to pesto and chutney.
Inspiration: Spiced roasted pumpkin, feta, baby spinach, house yoghurt, tahini sauce and pepitas, Bissel B. Roasted aubergine, spiced mango chutney, green sauce, chopped salad, tahini sauce and freshly baked bread, The Dusty Knuckle.
Protein-Up
Unsurprisingly, meat and fish favourites dominate a large proportion of global sandwiches. This includes chicken, alternative meats, slow-cooked meat, and fish and shellfish.
XL Chicken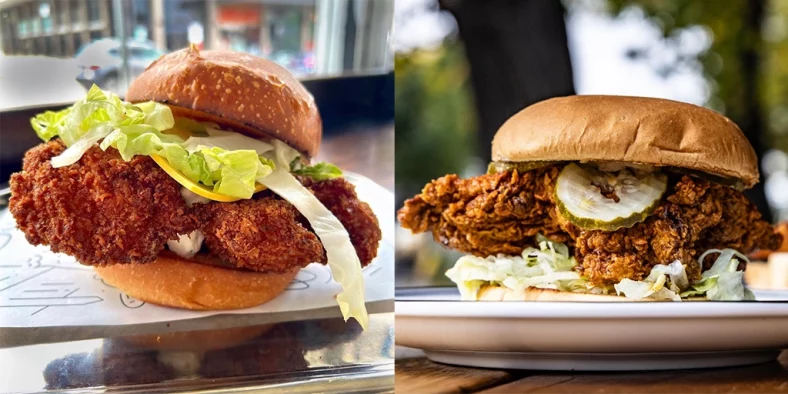 Fried chicken sandwiches never go out of fashion. But these eateries have literally made the chicken so large the bun barely covers it.
Insp: Fried chicken sandwich, Road Diner. Fried chicken sandwich, Shooter McGavin's.
Alternative Cuts
Looking beyond traditional choices is trending, as consumers become more curious. Additionally, the sustainability element of using the whole animal has chefs thinking outside of the box.
Inspiration: Adana spiced goat, dill pickle cacik, chilli sauce, Istanbul onions, parsley, mint and dill and tarhana crisps, Max's Sandwich Shop. Beef tongue with pickles, tomato, parsley, mustard and mayo, @arinas_cooking2.
Slow & Steady
Hours to prepare, minutes to devour. Pork, lamb and beef are the heroes here, usually cooked low and slow in the American BBQ tradition, accompanied by sauce, cheese and pickles.
Inspiration: Burnt ends in a BBQ glaze, smoked mac and cheese, chimichurri mayo in a brioche bun, Sandwich Sandwich. Slow cooked beef brisket, sauerkraut, swiss cheese, gherkins, onions, mustard and relish, Social Board.
Shellfish – Shellfish can either be fresh and zesty or deep fried and crunchy. Whichever way it's served, it's delicious. Classic seasonings like Marie Rose, Aioli and mayo are all regular accompaniments – some things never change.
Inspiration: Prawn roll with Marie Rose, lettuce and Old Bay seasoning, Kosta's Takeaway. Spanish Squid Special: crumbed and fried squid, paprika, saffron aioli, guindillas (chillies), parsley and lemon on the side, Franks Deli.
Fish Frenzy
Aside from shellfish, other seafood is getting sandwiched between two slices of bread as well. Whether it's smoked salmon, cod or tuna, expect lashing of creamy mayo and something with a hit of citrus.
Inspiration: Hoagie, spring onion and 'bacon dust' cream cheese, treacle cured salmon pastrami, house pickles, rocket and salsa verde, Dom's Subs. Salmon belly reuben, pickled onions, rocket and tartar sauce, The Flying Fig Delicatessen.
Global Flavours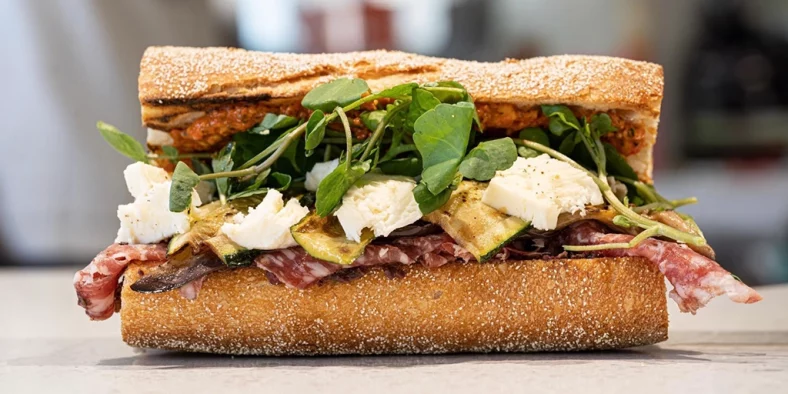 Global flavours have been creeping onto the sandwich for quite some time now, but as with all trends, they continue to evolve. While some classic sandwich ingredients like those from Italy remain popular, unexpected lesser-known flavours from India, Thailand and Japan are also getting the limelight.
Italian
It probably won't surprise you to learn that Italian flavours are very popular in the realm of sandwiches. Italians really do know how to cook: simple, quality ingredients.
Inspiration: Olive tapenade, sundried tomato pesto, charred courgette and aubergine, sopressa, fior di latte and watercress, Hugo's Deli. Tuscan chicken sandwich with sundried tomato, creamy tomato sauce and salad, @owenhan.
French
No filling is off the table, so think cassoulet, beef bourguignon and coq au vin. not to mention the many delicious cured meats and cheeses France has to offer.
Inspiration: Steak frites sandwich with medium rare porterhouse, fries, cafe de Paris butter, Nick's green sauce and fried capers, Hugo's Deli. Beef bourguignon pita, La Pita.
Indian
Bold flavours of Indian cuisine have made their way into sandwiches. Taking cues from the naanwich, baguettes, buns and rolls are the new home for curry classics. From butter chicken to bhajis, this is Indian cuisine, sandwich style.
Inspiration: The Julius: onion and carrot bhajis, Goan brinjal pickle, curried coconut yoghurt, butter lettuce and coriander, Mondo Sandwiches. Butter chicken, green chilli chutney, pickled red onions, mint yoghurt and amchur spiced poppadoms, Dom's Subs.
Thai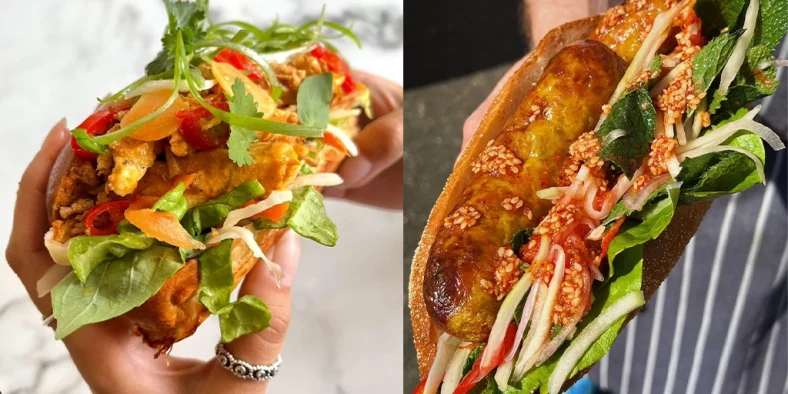 Well-known Thai flavours such as tom yum and red curry are used across meat and fish, while crunchy vegetables and aromatics like Thai basil, mint, coriander and a pinch of chilli add a little lift.
Inspiration: The Thai Chicken: Free range chicken, Thai red curry sauce, crisp Asian salad, coriander with our spicy chilli oil, Sexy Buns. Housemade Northern Thai style sausage, watermelon and green papaya salad, crispy rice, jaew (Thai chilli dipping sauce), mint and Thai basil, Dom's Subs.
Japanese
Seaweed, sesame, soy, pickled ginger, seaweed, tamago (Japanese omelette), wasabi and miso are all big flavours – who knew they worked so well in a sandwich?
Inspiration: Korean/Japanese mash-up with bo-ssam miso wagyu with wasabi mayo, apple kimchi, lettuce, shiso leaves on a potato bun, Sandoitchi Cafe. Soba noodles fried with cabbage and bacon, pickled ginger, aonrori seaweed and kewpie mayo, Kelso's Sandwich Shoppe.
Around the UK – sandwich shops are trending high on Instagram and TikTok, with their delicious combinations. As far as food goes, jumping on this trend is probably one of the easiest. It is all down to using tasty, high-quality ingredients.