Have you seen the rising trend of butter boards? These visually appealing platters feature butter and various toppings; they're all about creativity in presentation and experimenting with ingredients for a unique customer experience.
Towards the end of 2022, butter boards went viral on social platforms like TikTok and Instagram, with chefs and foodies sharing their butter board creations. One of the pioneers of the trend was food writer, blogger and recipe creator Justine Doiron, who shared a butter board on her social media with the caption: 'A butter board is the next charcuterie board trend. Don't quote me on it – but if it happens… then you can quote me on it'. Within two weeks, her video had over 8.3 million TikTok views.
If you haven't seen a butter board before, the concept is simple: softened butter spread artfully on a wooden board, accompanied by delicious ingredients like spices, herbs and bread. Some chefs have taken it to the next level with flavoured butters like whipped marmite, miso, garlic, and chilli butter. Others have topped theirs with fruit like figs and strawberries or crunchy veg, soft cheese, and cured meats. Salty and sweet are common themes, with drizzled honey or maple syrup on the top and a pinch of flaky salt.
Butter boards are tasty, relatively cheap (depending on what toppings you choose) and can be very effective. Plus, who doesn't love a good bit of salty butter and warm fresh bread? If you're catering for groups, these are a great addition to the buffet spread. And if you're a restaurant or pub, butter boards are a fun way to mix up the usual 'bread and butter' side or starter.
As always, we've gathered together the best ideas from chefs and recipe creators across worldwide eateries and social media to give you some butter board inspiration.
Eat With Your Eyes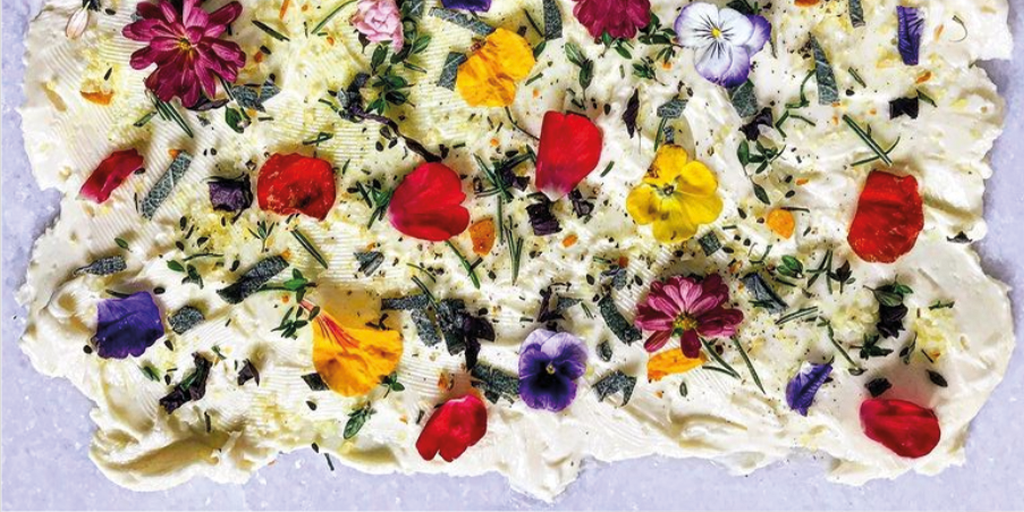 If we strip a butter board back, it's literally just a board covered in butter. For the most, they aren't labour-intensive dishes, but they do require some colour and creativity. Think of edible flowers and fresh herbs.
Inspiration: Butter board how-to video, KitchenAid. Butter board with edible flowers, herbs and salt, @joyosity. Ham butter sandwich board with flowers, salt, chives, ham, sausage, radish and emmental cheese, @mordu.
Fruity Butter Boards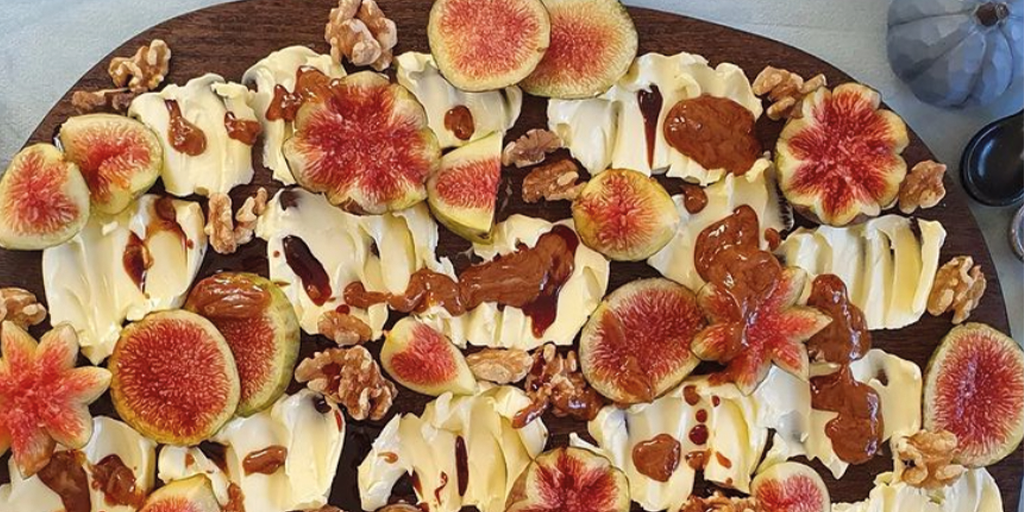 Just as figs sit humbly alongside cheese, they have also found a new friend in butter. Often drizzled with honey, a little salt and joined by some pecans or walnuts, they make a delicious and eye-catching centrepiece. Strawberries, honey and black pepper, is also a popular combo.
Inspiration: Butter board with grapes, molasses, tahini, figs and walnuts, @sanaa.alzamil. Butter board with figs, hot honey, lemon zest and edible flowers, Hearts Delight Charcuterie.
Vegetable Butter Boards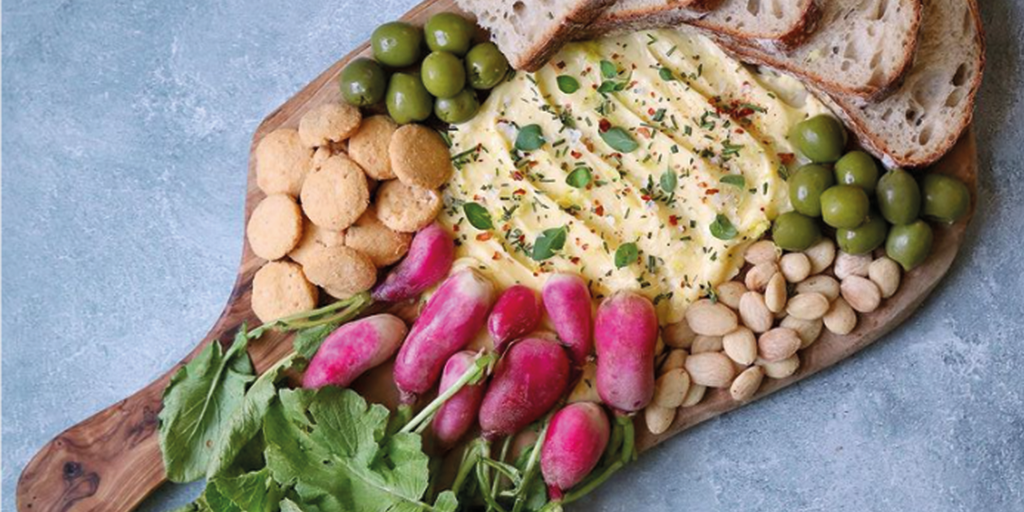 From fruit to vegetables. Here, foodies are topping butter boards with crunchy vegetables like radishes and carrots. Thanks to their higher acidity and saltiness, olives and tomatoes also work well. Some chefs have even swapped the butter for soft cheese like goat's cheese or ricotta – we're not sure it counts as a 'butter board', but it's still a very tasty idea.
Inspiration: Butter board with fresh rosemary, oregano, Aleppo pepper flakes, lemon zest, salt flakes, French breakfast radishes, olives, almonds and cheese coins, @30minutefoodie. Amish butter board with Momofuku chilli crunch, basil, honey, and sea salt, with a warm baguette, Union Merchant.
Protein Butter Boards
Butter and salty meat is a combination we all know works, so it's no surprise chefs are topping their butter boards with pork, ham and bacon. Drizzle some honey and maple syrup, and you have the perfect sweet and salty combination. Salmon, crispy capers and soft cream cheese are also proving popular… but it's not quite a butter board!
Inspiration: Roasted squash, bacon, pomegranate, red onion, savoy cabbage and balsamic drizzle, [chef unknown]. House-smoked pork belly butter board with charred onions, warm maple syrup and homemade baguette, The Anderson, UK.
Beyond Butter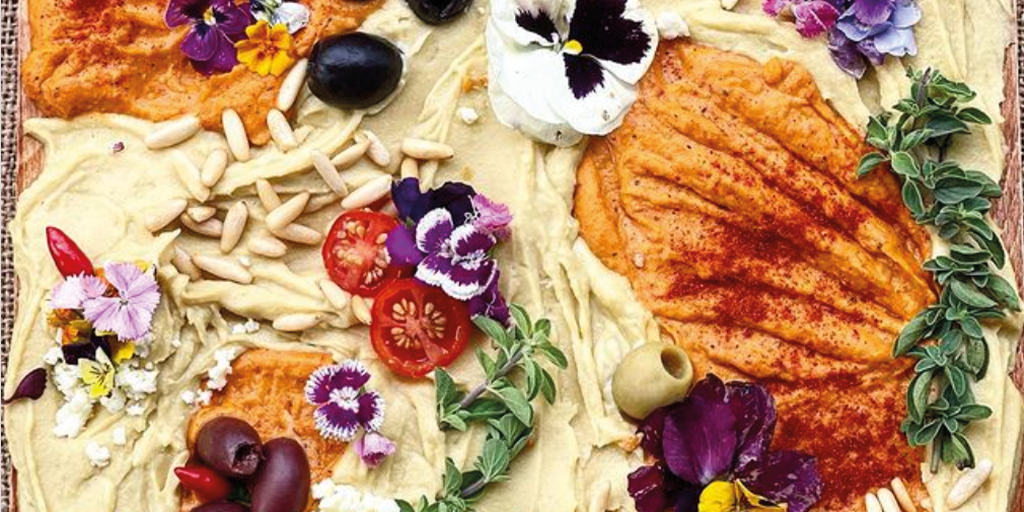 We've already shown a few examples of butter boards going 'beyond butter', and while they're not strictly butter boards, they are perfect for large groups, parties and occasions. Pretty much anything goes, but here dips like hummus or soft cheeses provide a delicious base.
Inspiration: Hummus board @zorroolio. Goats cheese 'butter board' with fresh fits, pistachio nuts, fig and balsamic jam, honey, pesto, sundried tomato bread, and beetroot and pumpkin seed crackers, Amaze and Graze, Essex.
Tempered to jump on the butter board trend? Whether you top yours with fruit, nuts, salty meats or go off-menu with soft cheese, butter boards will surely bring the wow factor to your venue throughout 2023.
But before you start grabbing the butter, get the board sorted. Wooden boards seem to be most commonly used, but slate and ceramic plates are also popular, and in all shapes and sizes. Think heart boards for Valentine's Day and Mother's Day. And if you serve pizzas on round wooden boards in your restaurant, these will work too!